Initiated by the United Nations and observed on 20th June each year, the World Refugee Day 2023 is an important way to raise public awareness of those who are living in crisis as a consequence of fleeing conflict and persecution in their home countries.
World Refugee Day aims to promote empathy, reignite compassion and advocate for the rights of refugees, worldwide. The day also encourages the mobilisation of resources in order to address the complex challenges that refugees face. Uniting humanitarian organisations and the private sector enables the development of sustainable solutions that will assist, support and protect refugees. This is crucial not only for immediate emergency response, but also to rebuild lives in the longer term.
IrisGuard is a world leader in the use of biometric identification technology. We've been leading the way with iris recognition for more than twenty years, specifically for the provision and distribution of humanitarian aid.
As innovators who serve this vital sector, it is the ongoing issue of displaced populations which drives us on. In this article, we'll look at how we have overcome problems with biometric authentication in the field.
How does the NGO provide humanitarian aid, using biometric identification technology?
While the immediate need to flee captures headlines, it is the continuous and longer term work in the 'recovery phase', where our technology shines. As a matter of fact, our solutions were deployed for Syrian refugees back in 2013 and are still in place to this day.
Our ground-breaking hardware, software and APIs (application programming interfaces) have enabled our clients to distribute essential life-saving aid to millions of displaced and vulnerable people. As of 2023, our systems process USD$ 1.3 billion humanitarian aid value annually.
Imad Malhas our Founder & Managing Director adds:
"The process begins with verified onboarding. A crystal clear image of the iris is captured and then converted into a unique encrypted digital code. Whenever the iris is scanned, it can be used for real-time verification to confirm identity and obtain a 100% accurate proof-of-life."
"Crucially, our end-to-end systems provide long term support that can be adapted and integrated into multiple modalities. Our EyeCloud® devices, software and APIs link with existing biometric registration databases and payment systems as well as a variety of mobile and fixed service points to increase geographic coverage. Our mobile iris payment solutions enable uninterrupted access to financial aid and social protection assistance for millions of people."
Our systems provide a step on the journey to financial inclusion for millions of people. When individuals lose their passport or other ID they lack the criteria to access regular banking and medical services, we provide an alternative KYC solution. Their eyes become the only requirement to access the assistance they need. However, along the way, we have encountered some problems with biometric identification in the field.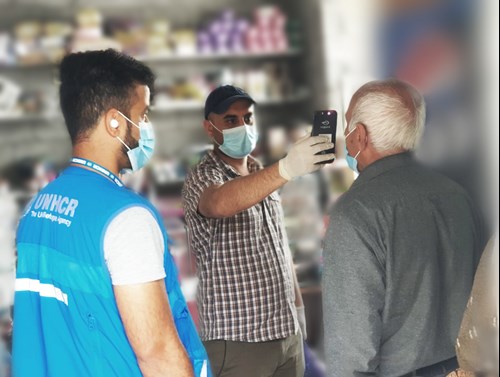 PROBLEM: Onboarding and verification with limited connectivity
It is often the case that refugee camps are located in remote areas, or certainly in places where there may be limitations on the immediate infrastructure.
Consequently, connectivity has been one of the most significant and problematic barriers, when deploying advanced technologies in remote areas. Limited or unreliable network coverage has previously hindered the effective use of iris recognition technology.
SOLUTION:
Working alongside our clients, we have overcome geographical connectivity challenges. Where internet access causes a substantial issue:
our Cloud-based solutions are available 24/7
our mobile-based contact-free EyePay(R) Android mobile device has the capability to onboard and authenticate, operating reliably both online and offline
This means that our clients can register and verify iris data locally, with no internet connection. The data is then synchronised with central databases when connectivity becomes available.
By side-stepping connectivity challenges, NGOs can implement iris recognition technology effectively, even in resource-constrained environments. In terms of accountability, our solutions maintain a full audit trail of each and every transaction for complete transparency.
Click to find out more about our GLOMO Award for Best Mobile Innovation Supporting Humanitarian or Emergency Situations.
PROBLEM: Capturing the iris for onboarding in challenging environments
Another of the key problems with biometric identification, when deployed in the field, is obtaining reliable results in challenging environments. Regular iris scanning devices can be impacted by factors including:
extreme light
extreme weather and climatic conditions
atmospheric dust and debris
remote locations with physical infrastructure limitations
issues of logistics/portability
SOLUTION:
Key to the success of our solution is capturing a high-quality iris image at the enrollment stage.
Our industry-leading portable iris scanners ensure a one-time-only onboarding process that achieves robust results. Whether performed indoors or outdoors, with different light conditions and other harsh environmental issues, pristine iris images are captured. Click to find out more about EyeHood®.
Empowering our clients, every single day
As we near World Refugee Day 2023, the plight of refugees is once again in the collective consciousness. However, for NGOs, aid agencies and the broader humanitarian sector, the crisis is at the forefront of minds and efforts, every single day.
In partnership with our clients, we are dedicated to improving the lives of displaced populations. Deploying our advanced biometric solutions empowers aid distribution processes in multiple ways. Aid agencies benefit from a streamlined operation and efficient one-time enrollment.
By harnessing the power of iris recognition technology, humanitarian teams can also nurture trust and transparency with donors. The use of biometric identification technology bolsters accountability and provides donors with assurance that funding is being delivered to the right people. Our solutions eliminate ID fraud elimination with 100% verification accuracy and a robust and rapid delivery reporting capability.
World-leading biometric solutions to solve humanitarian aid problems
We strive to continue developing cutting-edge technology that addresses the complex challenges faced by humanitarian operations as they seek to support displaced populations.
From overcoming challenging environmental factors to enhancing stakeholder's accountability with outstanding efficiency and accuracy, we are inspired by the resilience of vulnerable beneficiaries and humanitarian teams to innovate. Our team can be relied on to work with your team to address any unique or specific obstacles that impact your day-to-day operations.
To find out more about our iris recognition technology, please contact us to arrange a brief system demo with a member of our team.